Arthur School celebrates first graduation recognition ceremony

The Thomas D. Arthur Graduate School of Business held its first graduate recognition ceremony on May 6 on the campus of ECU.
After an introduction by Dr. Linda Quick, assistant dean of the Arthur School, Worth Carter (BSBA '77, MBA '81) with the Missile Defense Agency addressed graduates and families. He spoke about his three essential elements of leadership: trust, relationships and reflection.
Soon after, graduates from the MBA, MSA and Master of Science in Sustainable Tourism and Hospitality programs walked across the stage, shook Quick's hand, received a challenge coin, and were hooded by faculty whom the Arthur graduates chose.
In total, the Arthur School saw 164 MBA, 34 MSA and six MS-STH students representing both spring and summer '23 terms graduate.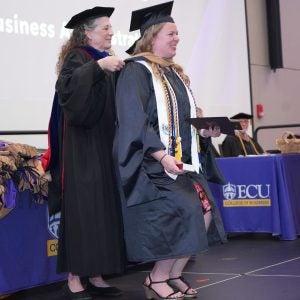 Cara Jo Gordon of Goldsboro completed an MBA and MS-STH and was named the Arthur School outstanding graduate. She joined her fellow Arthur graduates at the ceremony. When asked about her favorite memory while attending the Arthur School, she said, "I will never forget marketing strategies with Dr. (Christine) Kowalcyzk."
"It was the first face-to-face class I had taken in 13 years," said Gordon. "I was nervous about working with other students half my age. She made the class fun and approachable, and my experience with that group empowered me to find my voice."
Manual Reyes's approach to his education was very pragmatic. He chose ECU because it was close to his Snow Hill home. As he puts it, "I was able to save money by being able to commute to school every day and not have to live somewhere else." It was during this time he first learned of the Arthur MSA program.
"I heard great things about it and how it was set up to help students pass the CPA exam efficiently while being a full-time," says Reyes.
Everything is pointing toward Reyes making the right decision. He has also already passed two of the four required CPA exams, and he's been offered a full-time job with his current employer, Streamline Developers of Morehead City.
Charting a Course for Leaders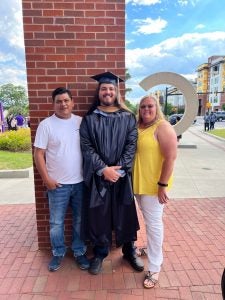 In 2021, Thomas Arthur '71 gave a $5 million gift to the College of Business to help strengthen graduate-level business courses, support student veterans and military personnel, and be a national model for leadership development and regional transformation. Though the Arthur School has only been a named entity for less than two years, leadership is making significant strides toward Arthur's goals.
Before the May 6 ceremony, the Arthur School announced its inaugural teaching fellowship. The Arthur Fellows will research, train, adopt, implement, and deploy innovative learning techniques or other pedagogical innovations in their graduate teaching. They also willshare applicable knowledge with others in the College of Business.
The Arthur School will soon announce the inaugural cohort of the Arthur Immersive MBA. Unique in its scope, the Arthur IMBA is an accelerated pathway through the school's MBA program. It culminates in a professional, immersive experience with a regional company with a national or international footprint.
According to Quick, the recognition ceremony celebrated the graduating students and served as a brand launch for the Arthur School.
"These are exciting times for our graduate students," said Quick. "We are designing programs and activities to position the Arthur School as a destination for those looking to distinguish themselves as leaders."