Grit at Work: Kuang Liu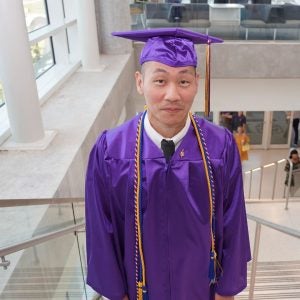 Please tell us about yourself
I was born in Taiwan and moved here with my family in 1996. I worked in the restaurant industry for years while I was in high school and college the first time around.
I graduated from Cary High School in 2001 and attended Wake Technical Community College, intending to transfer to NC State to study textile engineering. However, I soon realized the textile industry was heading toward India. With that and other reasons, I decided to stop chasing that goal. But, I did obtain an associate degree.
I continued to work in restaurants until I finally pushed myself to do something else: I enlisted in the Navy Reserve in 2012 and hopefully will retire in the reserve. Once I returned to the triangle area, I worked odd and temporary jobs until I joined UNC Health Care as an IT person in 2014. I wanted to and attempted to return to school a couple more times, but due to unforeseen circumstances, I had to quit both times.
Finally, in late 2019, I set my goal again to return to school and applied to several schools. ECU was one of them, and I got accepted. I worked and studied hard to fulfill my duties and complete my coursework. In May of 2023, I graduated with a BSBA in management information systems; I finally completed a journey I started more than 20 years ago. Being the first person in my immediate family to graduate from college is a great pride that I will never forget and hopefully will motivate others to follow suit.
What made you decide to complete your degree?
When my mother passed unexpectedly in 2017, I promised myself I would finish what I started years ago, and I finally fulfilled that promise.
Why ECU and the College of Business?
I always leaned toward ECU after a couple of my best friends from high school attended it. On top of that, after looking around at other schools, ECU and College of Business suited me better than others, not to mention ECU has some of the best online programs not only in the state but in the country.
Do you have new occupational goals on the horizon?
I did apply for a Navy commission in the reserve. We will see what happens. But I want to focus on my work, spend time with my dog, relax, and travel since I finally got a camper. If future opportunities come up, I will be ready for them.