Arthur MSA Profile: Allison Levesque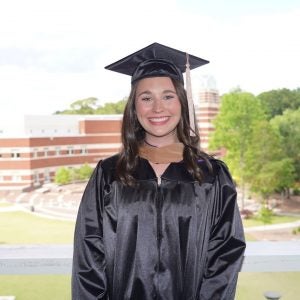 Arthur MSA Graduate: Allison Levesque
Hometown: Brooklyn, Connecticut
Undergraduate Institution & Degree: ECU. College of Business Bachelor of Science in Business Administration with a concentration in accounting  
What brought you to ECU? The second I stepped foot on ECU's campus, I knew it felt like home! Everyone was so nice and helpful that day. They made my college choice an easy decision for me. 
What was the moment you knew you made the right decision to pursue an MSA in the Thomas D. Arthur Graduate School of Business? When I started my MSA and met all my amazing professors, I knew I made the right decision. 
Tell us about a memory of one of your professors or classes that stands out to you.  Dr. (Dan) Schisler always had the best stories during his classes! They always related to the content, taught the class something, and kept us entertained, as well! 
What are your next steps after you earn your MSA? I will be joining KPMG as a federal audit associate in their Providence, Rhode Island practice.