Kathryn Carroll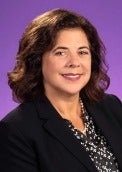 Kathryn Carroll, Teaching Instructor & LaPD Program Coordinator
Leadership and Professional Development Program
College of Business
East Carolina University
3419A Bate Building
Greenville, NC  27858-4353
252-737-1056
carrollka18@ecu.edu
A successful business owner and licensed attorney, Kathryn Carroll has worked in both the private and public sector and enjoys working with students in the areas of leadership and professional development. Her experience provides valuable insight and coaching as students prepare to transition from college to the workplace.
Kathryn earned her J.D. from Campbell University and her B.A. from the University of North Carolina at Chapel Hill. She is also an Emily Post Institute certified trainer. As a participant in the BB&T Center for Leadership Development Active Learning and Leadership Program, Kathryn explores leadership skill development in her classes and shares with other faculty across campus.
Kathryn lives in Greenville with her family and invests in her community by serving on several boards and committees for various non-profits.