Young Alumni Council
ECU's College of Business Young Alumni Council is comprised of alumni under the age of 40 who have made significant contributions to their profession and/or community. The Young Alumni Council furthers the mission of building leaders by providing external perspectives and personal attributes that build both the reputation and capacity of the College of Business. These emerging leaders serve as a link between the College and the business community and are expected to routinely participate in monthly/quarterly board meetings and volunteer their time and talent as guest speakers and student mentors.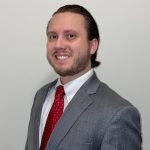 John Miller
Marketing
Class of 2020
---
Area Manager II at Amazon
---
The Emerging Leaders Board is always searching for dedicated alumni who meet the age and career criteria mentioned above. COB Alumni and COB Faculty/Staff may nominate individuals for consideration. One may self-nominate if interested in serving on the board. Nominations and applications are accepted year-round.