Cody Chullen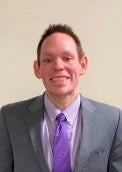 Cody L. Chullen, Associate Dean for Academic Quality
& Associate Professor Department of Management
College of Business
East Carolina University
3204 Bate Building
Greenville, NC  27858-4353
252-737-4608
chullenc@ecu.edu
Cody Logan Chullen, Ph.D. joined the College of Business at East Carolina University in 2011. He is the Associate Dean for Academic Quality in the College of Business and an Associate Professor of Management (w/ tenure) and teaches undergraduate courses in Managerial Negotiation, Human Resource Management, Management of Organizations, and Fundamentals of Management and graduate courses in Collaboration, Conflict, and Negotiation, Human Resources, and Comparative Management, both face-to-face and online. Additionally, he is a distinguished Chancellor's Leadership Fellow, BB&T Faculty Leadership Fellow, and Teaching with Technology Fellow of the university. His primary research interests include leadership processes (e.g. LMX), occupational stress, strain, and well-being (e.g. burnout), and gender issues (e.g. women as managers), with supporting interests in legal issues in human resource management (e.g. EEOC complaints & lawsuits) and workplace issues in healthcare (e.g. deviant behavior & involuntary turnover). He works closely and consults with an array of businesses in the manufacturing, mental health services, and healthcare industries. Dr. Chullen's previous academic experience includes serving as a Visiting Assistant Professor of Management in the School of International Pharmaceutical Business at China Pharmaceutical University, as an instructional development coordinator for the Center for Instructional Excellence at Purdue University, as an instructor, research assistant, and teaching assistant in the Krannert Graduate School of Management at Purdue University, and as an undergraduate research assistant in the College of Business at Southern Illinois University Carbondale.
He has presented his research at several regional, national, and international conferences including the Annual Meeting of the Academy of Management, Annual Meeting of the Society for Industrial & Organizational Psychology, Annual Meeting of the Society for Marketing Advances, Annual Meeting of the Southern Management Association, Annual Meeting of the Southeast Decision Sciences Institute, Society for Advancement of Management International Business Conference, and the Annual Meeting of the Midwest Academy of Management. His continued professional involvement at conferences has earned both Best Paper Awards and Outstanding Reviewer Awards. Additionally, his research has been published or is in press at a variety of peer-reviewed journals including Journal of Healthcare Management, Equality, Diversity, & Inclusion: An International Journal, Journal of Leadership, Accountability, & Ethics, SAM Advanced Management Journal, Problems and Perspectives in Management, International Business & Economics Research Journal, and Innovative Marketing, among others.  While working as part of a research team at Southern Illinois University, he participated in the design and implementation of a series of team-based experimental tasks on the phenomenon of "social loafing" which were aired on ABC's 20/20 in a program special entitled "The Seven Deadly Sins: Sloth."  He has served on the Editorial Board of the Academy of Management Learning & Education Journal (AMLE) since 2011, on the Editorial Board of the Journal of Occupational Health Psychology (JOHP) since 2017, on the Editorial Board of the International Journal of Stress Management (IJSM) since 2018, and serves as an ad-hoc reviewer for an array of academic conferences and journals. He is recipient of the "Award for Exemplarily Performance as Outstanding Editorial Board Reviewer" for AMLE.
Dr. Chullen is very passionate about student development and learning. He is past recipient of both ECU's Alumni Award for Outstanding Teaching and the College of Business Commerce Club New Faculty Teaching Award. He has also been a university finalist for the Max Ray Joyner Award for Outstanding Teaching in Distance Education and a nominee for the Board Of Governors Distinguished Professor For Teaching Award. His efforts in the classroom have also been recognized with grants through ECU's BB&T Center for Leadership including a BB&T Active Learning & Leadership Development Grant. Additionally, he has been nominated for faculty marshal and cited as the "person who has made the most significant positive contribution" to his students' education on numerous occasions.  On numerous occasions, graduating seniors in management have selected him as their Faculty Marshal. Further, he previously served as the faculty advisor to ECU's chapter of the Society for Advancement of Management (SAM). During his tenure as advisor, ECU's SAM was named 1st Place Best National Chapter in its division and also earned 3rd Place in the International SAM Business Case Competition held in Orlando, FL. Dr. Chullen is past recipient of Purdue University's Excellence in Graduate School Teaching Award (the highest teaching honor bestowed upon graduate students by the university) and is an Associate Fellow of the Purdue Teaching Academy.  He is also recipient of the Celebration of Graduate Student Teaching Award and the Krannert Graduate School of Management Award for Distinguished Teaching (on two occasions) at Purdue University.
Dr. Chullen is committed to supporting ECU's public service and regional transformation initiatives, engaging in an array of community service activities in and around Eastern NC. He serves on the Board of Directors for the REAL Crisis Intervention Center in Greenville, NC and has volunteered with Riley's Army (a pediatric cancer non-profit). He also serves on Pitt County's Nursing Home/Adult Care Home Community Advisory Board. Additionally, he has participated in other various community engagements such as the Greenville Cleanup and the ECU SAM Clothing Drive, among others. Also, Dr. Chullen is (or has been) involved in numerous institutional service activities at ECU including Faculty Senate, UNC Faculty Assembly, University Faculty Mentoring Program, University Admissions & Retention Policies Committee, University Budget Committee, University Educational Policies and Planning Committee, Student Conduct Board, and many, many more (including roles at the college and department level).
He earned his Ph.D. in Organizational Behavior & Human Resource Management from the Krannert Graduate School of Management at Purdue University where he was a Purdue Doctoral Fellow.  His dissertation entitled "A Cross-level Analysis of Burnout in Supervisor-Subordinate Dyads" was winner of the Purdue Research Foundation Grant Competition.  Prior to completing his doctorate, he earned his M.B.A. and B.S., magna cum laude (GPA: 3.85/4.0), from Southern Illinois University Carbondale.  There, he received several notable scholarships, was named a Top 25 Most Distinguished Senior of the University, and was inducted into several national and international honor societies including Beta Gamma Sigma, Phi Kappa Phi, Golden Key International Honor Society, and Gamma Beta Phi Honor & Service Society, among others. Prior to that, he graduated from Rend Lake College with his A.S. and A.A. degrees where he was inducted into the Phi Theta Kappa Honor Society. Dr. Chullen also served on the Board of Trustees at Rend Lake College. Dr. Chullen has complimented his educational endeavors with work as a financial specialist for the United States Department of Agriculture-Rural Development, as a manager for Information Technology at Southern Illinois University, and as a paralegal and office manager for a Midwest law firm, among others.