TD Gribble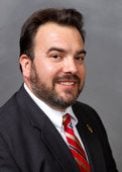 T.D. Gribble, Teaching Instructor
Leadership and Professional Development Program
College of Business
East Carolina University
120 Slay Hall
Greenville, NC  27858-4353
252-737-2332
gribblea@ecu.edu
Anthony David (T.D.) Gribble is a teaching instructor for the BUSI 3200, Leadership II course in the East Carolina University College of Business. He covers topics including resume creation, interviewing, workplace professionalism and dining etiquette. He has taught multiple international business courses since 2002, upon his return from a year study at Osaka Kyoiku Daigaku (Osaka Education University) in Osaka Japan. He has also taught courses to universities in Malaysia and China using the global classroom technologies at ECU.
T.D. started working in the fitness industry after completing his Undergraduate studies at ECU. This was a love he had fostered growing up in the family business. During this time T.D. continued his studies by earning his MBA from ECU. Once his degree was complete he moved into teaching in the management department in the ECU College of Business.
In 2017 T.D. tested for his 7th degree black belt in Isshinryu Karate (the one heart way). He has been training in the martial arts since the age of 4. He is active in the martial arts programs at ECU and in the community. He is the advisor to the Isshinryu karate club and the tournament director to the ECU martial arts fundraising tournament. The tournament has grown from 70 competitors to 135 and annually now makes better than $3000 profit for the clubs. T.D. travels throughout the mid –Atlantic states volunteering at tournament and seminars. In 2019 he was promoted to 4th degree Black Belt in Okinawan Kenpo and Kobudo He has been working with an international group of martial arts professionals located in Okinawa Japan, Denmark and Canada to improve the quality of teaching and the understanding of Okinawan Karate.
T.D. lives in Greenville with his wife and two sons.