Anna Johnson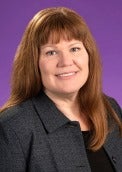 Anna Johnson, Assistant Professor
Department of Accounting
College of Business
East Carolina University
252-737-1296
johnsonan18@ecu.edu
In 2018, Anna joined the East Carolina University (ECU) family as a full-time faculty member. Prior to entering academia, she worked as an accountant and auditor in private industry and as an internal and external auditor in state government. Not only is Anna a licensed Certified Public Accountant (NC and WV), but she is also a Certified Fraud Examiner and a Certified Fraud Investigator. She is also a member of the American Accounting Association (AAA), Association of Certified Fraud Examiners (ACFE), and North Carolina Association of CPAs (NCACPA).
Anna's teaching interests are in the areas of accounting information systems (AIS) and auditing, and she currently teaches AIS (ACCT 3851) and Advanced Cost and Systems (ACCT 6631). Prior to joining ECU, she taught financial accounting and auditing courses at Florida Atlantic University and Bradley University. She enjoys creating application-based educational cases and conducting research on industry and work environment issues that potentially influence professional judgment. Her work has appeared in professional publications, such as The CPA Journal, and in academic journals, such as Journal of Accounting Education and Issues in Accounting Education.
In her spare time, whenever Anna is not gardening, she loves to spend time fishing, camping, and visiting historical sites with her family and friends.