John Kros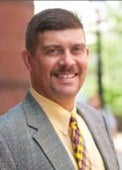 John F. Kros, Professor
Vincent K. McMahon Distinguished Professor of Marketing and Supply Chain Management
College of Business
East Carolina University
3205 Bate Building
Greenville, NC  27858-4353
252-328-6364
krosj@ecu.edu
http://myweb.ecu.edu/krosj/ecu.html
John F. Kros currently is the Vincent K. McMahon Distinguished Professor of Marketing and Supply Chain Management in the College of Business at East Carolina University, in Greenville, North Carolina. He teaches the Business Decision Modeling, Statistics, Operations and Supply Chain Management, and Logistics and Materials Management courses.
Before joining academia, John was employed in the electronics manufacturing industry by Hughes Network Systems (HNS), in Germantown, Maryland. Currently, he is a member of the Council for Supply Chain Management Professionals (CSCMP), the Institute for Supply Management (ISM), the Institute for Operations Research and Management Science (INFORMS), Production Operations Management Society (POMS), and the Decision Sciences Institute (DSI).
John's current research includes areas such as simulation and process analysis, quality control, applied statistical analysis, and the applications to supply chain problems. He authored Spreadsheet Modeling for Business Decisions (4thed., Kendall Hunt), is a coauthor for Statistics for Health Care Professionals: Working with Excel (3rd ed., Wiley/Jossey-Bass), and is a coauthor of Health Care Operations and Supply Chain Management (1st ed., Wiley/Jossey-Bass).
He has published in numerous journals including INTERFACES, the International Journal of Physical Distribution and Logistics Management, the Journal of Business Logistics, Quality Engineering, Computers and Operations Research, and the Journal of the Operational Research Society.
John has a bachelor of business administration from The University of Texas at Austin, a master of business administration from Santa Clara University, and a Ph.D. in systems engineering from The University of Virginia. He enjoys spending his free time with his family, traveling, snow skiing, and watching college football (GO PIRATES!).