Nancy Ray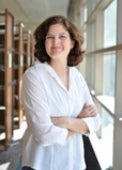 Nancy Ray, Teaching Instructor
Department of Finance
College of Business
East Carolina University
305 Slay Hall
Greenville, NC  27858-4353
252-737-1598
rayn@ecu.edu
Ms. Ray has been teaching at East Carolina University since 2006. At ECU, Ms. Ray teaches business law and insurance law. She also has teaching experience in criminal law, computer law, and legal ethics.
She graduated summa cum laude from Mary Baldwin College in 1998 and completed her law degree at the University of North Carolina at Chapel Hill in May of 2001. She began practicing law in Greenville in the fall of 2001 and handled a wide variety of civil and criminal cases from 2001 to 2013. In 2013, Ms. Ray was appointed to serve as a Pitt County magistrate. She hears both civil and criminal matters as a magistrate and particularly enjoys presiding over Pitt County's small claims court.
When she is not hearing cases or teaching at ECU, Ms. Ray volunteers with Tryon Palace in New Bern and with the Pitt County Guardian ad Litem program. She has been named to ECU's Servire Society every year since 2007. She is a proud fan of the Mary Baldwin College Fighting Squirrels and the University of Georgia Bulldogs.