Thomas Robbins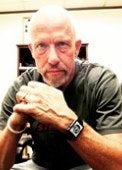 Thomas Robbins, Associate Professor
Department of Marketing & Supply Chain Management
College of Business
East Carolina University
3136 Bate Building
Greenville, NC  27858-4353
252-328-6588
robbinst@ecu.edu
http://myweb.ecu.edu/robbinst/
Dr. Robbins is an Associate Professor in the Marketing and Supply Chain Management department in the College of Business at East Carolina University, in Greenville, North Carolina. He teaches multiple courses, including Management Science, Statistics, Operations and Supply Chain Management, and Project Management. He also taught a seminar on Big Data and Analytics in the ECU Honors College.
Prior to entering academia Dr. Robbins worked in business for 20 years, primarily in technology and consulting positions. He worked for companies such as IBM, Boston Market, Advanced Graphical Applications, and General Electric. He spent the majority of his career working in the consulting unit of Ernst and Young where he was a partner prior to the business unit's sale to Cap Gemini. In 2002 he retired from Cap Gemini as a Vice President and began a second career in academia.
His research interests focus on the application of quantitative models to real world problems. He has expertise in simulation, linear, integer, and stochastic programming, and predictive analytics. His work has been published in journals such as the European Journal of Operational Research, Service Science, the Decision Sciences Journal of Innovative Education, the International Journal of Operations and Quantitative Management, The Journal of Thoracic and Cardiovascular Surgery, and The Wiley Encyclopedia of OR/MS.
Tom has a BS in Electrical Engineering from The Pennsylvania State University, an MBA from the Weatherhead School at Case Western Reserve University, and a Ph.D.in Business Administration and Operations Research from The Pennsylvania State University. When not working he enjoys spending time with his family, working out, and training Brazilian Jiu Jitsu.