Douglas Schneider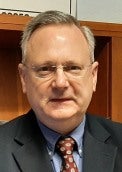 Douglas K. Schneider, Professor
Edwin B. Jones Family Endowed Professorship in Accounting
Department of Accounting
College of Business
East Carolina University
340 Slay Hall
Greenville, NC  27858-4353
252-737-1436
schneiderd@ecu.edu
Curriculum Vitae
Dr. Douglas K. Schneider, CPA, is Edwin B. Jones Family Endowed Professorship in Accounting in the College of Business at East Carolina University. His area of teaching and research is financial accounting and reporting. Dr. Schneider is co-faculty advisor and co-founding advisor of the Beta Alpha Psi chapter at ECU and is also current and founding advisor of ECU's chapter of the National Association of Black Accountants. In addition, Dr. Schneider serves as Treasurer of the Delta Omicron Housing Corporation which operates the Alpha Delta Pi sorority house at ECU and also serves as Faculty Advisor to Alpha Delta Pi. He serves as Treasurer of the East Carolina Greek Alumni Alliance, an advocate organization for the general welfare of all Greek students at East Carolina University. Professor Schneider serves as Chair of the Personnel Committee and the Promotion and Tenure Committee for the Department of Accounting. He has been active in the development of the CPA Exam, including working on task-based simulations and objective questions.
In 2015 Dr. Schneider was awarded the Distinguished Professor for Teaching Award by the UNC Board of Governors, the College of Business Faculty Fellowship, and the Edwin B. Jones Family Endowed Professorship in Accounting.
The graduate and undergraduate students have selected Dr. Schneider numerous times as a Hooder for the MSA students and as Marshal for the MSA and BSBA students at the College of Business Graduate Recognition Ceremony. Each semester he writes numerous letters of recommendations on behalf of students for scholarships, graduate school and employment and internship referrals.
Professor Schneider has been recognized as the ECU's Scholar-Teacher Award Recipient, Student Activities Academic Advisor of the Year, ECU Panhellenic Outstanding Faculty Advisor Award several times, and as a finalist for the University Alumni Award for Outstanding Teaching and the Board of Governors Award for Excellence in Teaching.
An active researcher, Dr. Schneider has published over fifty academic articles in journals such as the Accounting Horizons, Journal of International Financial Management and Accounting, Journal of Applied Business Research, Advances in Taxation, Journal of Theoretical Accounting Research, Journal of Business and Economic Studies, Coastal Business Journal, Journal of Business and Accounting, National Accounting Journal and Petroleum Accounting and Financial Management. He also has over thirty presentations at academic conferences.
A licensed CPA in the State of North Carolina he is also and member of the American Institute of Certified Public Accountants, the American Accounting Association, the North Carolina Association of CPAs and the Commerce Club of the College of Business at East Carolina University. Dr. Schneider holds a PhD from the U. of Georgia, a MSA from the U. of Virginia and a BS from Bentley University.