Danica Spriggs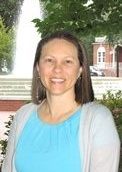 Danica Spriggs, Teaching Instructor
Leadership and Professional Development Program
College of Business
East Carolina University
129 Slay Hall
Greenville, NC  27858-4353
252-737-1541
spriggsd16@ecu.edu
Danica Spriggs joined ECU in 2016 as a Teaching Instructor in the Leadership and Professional Development Program for the College of Business.  She teaches the Freshman course, BUSI 1200 Strategy First.  She received her MA in Management and Leadership from Liberty University and her BA in Management from Wayland Baptist University.
Prior to entering academia, Danica served 21 years in the U.S. Air Force, retiring in 2016 as a Senior Master Sergeant, First Sergeant.
Danica and her husband, Fulton, currently own and operate multiple hair salon franchises in Eastern North Carolina.