Trang Tran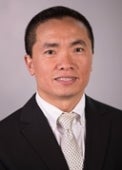 Trang Tran, Associate Professor
Department of Marketing and Supply Chain Management
College of Business
East Carolina University
114 Slay Hall
Greenville, NC  27858-4353
252-737-5421
trantra17@ecu.edu
Trang P. Tran is an Associate Professor of Marketing at East Carolina University (ECU). Before joining ECU, he taught at State University of New York at Oneonta. He received a bachelor degree in Vietnam, an MBA in Germany and a Ph.D. in Marketing from the University of North Texas, USA.
His research interests include branding, social media and service marketing. His papers have been accepted or published in a number of journals including the Journal of Macromarketing, Services Marketing Quarterly, Computers in Human Behavior, International Journal of Nonprofit and Voluntary Sector Marketing, International Journal of Bank Marketing and conferences like the American Marketing Association, Academy of Marketing Science, and the Society of Marketing Advances.
He worked in sales and marketing of Vietnam Brewery Ltd., Mercedes-Benz Vietnam and Samsung Engineering for more than ten years before returning to academia.
He is the proud father of two Eagle Scouts, Quang Tran and Minh Tran. He enjoys outdoor activities, traveling, and reading.