Steven Garrett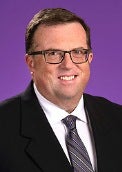 Steven Garrett, Teaching Instructor
Leadership and Professional Development Program
College of Business
East Carolina University
123 Slay Hall
Greenville, NC  27858-4353
252-737-1950
garrettst18@ecu.edu
Steve Garrett is a teaching instructor for BUSI 2200, Experiential Leadership: Teams in Action. He is very comfortable in the Bate building, with its unique blend of Liberal Arts and Business. Steve earned a B.A. in English Literature from the University of Virginia and an MBA from the College of William & Mary. His corporate career spanned over 28 years with a market-leading manufacturing company in the hand and power tool industry.
During his career, Steve's assignments covered the spectrum of functional areas covered in the ECU curriculum: Accounting, Finance, Marketing (both product and channel/distribution marketing with experience in direct/OEM, retail, and industrial distribution channels), and MIS (Enterprise systems and cloud-based data management tools). He also had regular interactions with sub-disciplines such as HR and Supply Chain Management. His final position in the corporate world was as a Certified Administrator for the company's Salesforce implementation. This was a global position co-leading a team that designed, implemented, launched, and supported the cloud-based platform for users in the US, Canada, Mexico, Brazil, Australia, and Europe. This experience led to freelance consulting work prior to starting at ECU in 2018. Steve remains certified and has on-going engagements in Salesforce consulting.
In every job he's held, Steve has worked successfully in a team environment. He knows what it takes to lead, follow, and excel in situations where success depends on the support and efforts of others. He's dedicated to providing you with the opportunity to learn usable and marketable skills that can help you achieve your long-term goals.
Steve and his wife Shirley live in the Raleigh-Durham area, so he is very familiar with Highway 264 East and West! He loves music and dogs, and currently has 2 Shih Tzus and 1 mixed breed keeping him busy. He also loves traveling and experiencing other cultures. Steve has been to 45 of the 50 states, 6 of the 13 Canadian provinces and territories, and 40 countries (so far); his travel goal is to visit 100 countries, all 50 states, all of the Canadian provinces, and to stand on all 7 continents (Australia and Antarctica are all that are left to experience).