Camille Hefner, CPA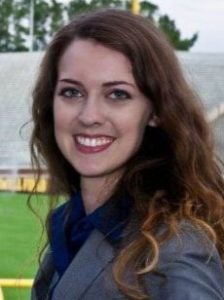 Manager, Accounting
XPO Logistics, Inc.
Previous Positions: Senior Accountant, XPO Logistics; Risk and Compliance Senior Auditor, Ally Bank; Assurance Senior Associate, RSM US LLP; Intern, Financial Crime Investigations Unit – North Carolina State Bureau of Investigation
I started my career in public accounting at RSM US LLP where I was responsible for in-charging employee benefit plans, private company audits, a public company audit and quarterly reviews. In addition, I also participated in a private debt offering, initial public offering, secondary offering and business acquisitions.  My primary focuses were on industrial products, consumer products and life sciences. After public accounting I went into banking with Ally Bank where I served as a senior auditor on third line of defense audits. There I used my previous experiences to provide consultation to management regarding emerging risks and control practices.
I then transitioned into the private sector, out of auditing and into corporate accounting, with XPO Logistics, Inc. a Fortune 500 Logistics and Transportation company where I work today. I currently lead month end and quarter end close duties including review and oversight of a business unit. I also work closely in process transformation and have assisted to streamline the close cycle, consolidate accounting software, and implement a new accounts payable systems. In addition to these roles and responsibilities I work with both internal and external audit to ensure quarterly and annual requirements are met along with assisting in carve out financial requests prior to our company spin.
Accounting to me is the language of business and I believe that understanding the fundamentals can lead you to many different paths. Going to ECU and studying accounting helped me to jump start my career and gave me opportunities including externships, internships and ultimately my first career after college.