COB Graduate Assistantships
Graduate assistantships provide degree-seeking graduate students with the opportunity to improve their skills in teaching and/or research and to offer practical experience while pursuing a graduate degree.
Eligibility
The College of Business (COB) offers graduate assistantship (GA) positions that assist professors in research or course administration or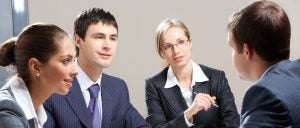 provide support for various COB offices. To be considered for a COB GA position, you must:
be enrolled as a full-time graduate student (9 semester hours/3 classes) in a degree program. Summer enrollment is not required for summer GA positions.
be in good academic standing. Students on probation or those who have not made satisfactory progress toward satisfying their degree program requirements will not be considered for a GA position.
receive satisfactory performance evaluations to be considered for a GA in a following semester. GAs will be terminated for non-performance of job duties.
There are a limited number of online GA positions available. The majority of the College of Business assistantships require a student to be on-campus.
Returning graduate assistants who have received favorable evaluations are given first consideration. Additional assignments are based on GMAT score and academic achievement.  Where possible, we aim to assign GAs to the same faculty members with the same number of hours, but there is no guarantee. Awards given are based on available funding and need and vary from semester to semester. Students will be notified via email if/when they are awarded a graduate assistantship. All students who apply for a graduate assistantship may not receive one. Early application is recommended.
Summer Eligibility
Summer enrollment is not required for summer GA positions for students who are continuing their full-time graduate studies the following fall semester. If a student is a new graduate student, admitted for either the first or second summer session, the student must be enrolled for the admission term. If a student is taking summer graduate courses, they are not required to be registered full-time for the summer term.
Students who graduated the previous spring or who are on academic probation are not eligible to be a summer GA.
There are not as many summer GA opportunities in the COB. Therefore, not all eligible students will be awarded a position, hours may be reduced, and/or you may be assigned to a different faculty supervisor.
Application Process
GA assignments are valid for one semester only. Students must submit an application for each term (fall, spring, 1st summer session, 2nd summer session) that they wish to be considered for a graduate assistantship during the application period.
Application Requirements
Completed online application
Current resume
New students must be fully admitted into ECU's Graduate School in a graduate degree program
Current students must be in good academic standing
Registered full-time for graduate courses
Important Instructions
Use a computer, rather than a phone or tablet, to complete the application
You must be logged in as yourself using your PirateID and passphrase
You must know your Banner ID in order to submit an application
Application Deadlines
Matching begins shortly after the application deadline.
Fall: July 1
Spring: November 15

Summer: March 15

Additional Information
Selection Process
Shortly after the application deadline, all complete graduate assistantship applications will be reviewed for consideration. Applications will only be reviewed if the applicant has satisfied all eligibility criteria.
Matching is done using the student's answers on the application and the student's resume to identify the best fit with the faculty and/or supervisor's needs. On the application, students may request to be matched with a specific department or faculty.  Interviews are occasionally conducted as part of the selection process.
An offer for a graduate assistantship is made via ECU email which will include a contract. The student must electronically sign and return the contract to complete the appointment process. All hiring forms must also be submitted in a timely fashion.
Mandatory Training Modules
There are 2 mandatory training modules that new GAs must complete prior to the first day of their employment; both modules are located in Cornerstone. Login to Cornerstone and search for "Information Security Awareness" training and "College of Business: New GA Training." More information is included in the GA offer email.
GAs must also review the Graduate Assistantship Policies and Graduate Assistant Expectations
Assistantship Hours
Graduate assistantships (GA) are typically awarded in 10 to 20 hour per week increments. International students are limited to a 20 hours per week GA (fall and spring semesters). This is a federally mandated regulation and there are no exceptions. They must also coordinate all employment with East Carolina University International Affairs.
Employment Dates
COB GA contracts are issued by semester, not for the duration of the students' program. Graduate assistantships begin on the first day of the semester/session and end on the last day of exams. GAs are not expected to work holidays or during student breaks; however, they are expected to work through the last day of exams.
Outside Employment
Recipients of a COB Graduate Assistantship agree not to accept any other employment without the prior approval of the COB Graduate Programs Office. If a graduate assistant has additional employment outside the College of Business, the graduate assistant will be expected to make their College of Business graduate assistantship a priority over outside job responsibilities.
Payment
Graduate assistantships are independent of tuition waivers; the COB does not offer any positions that include tuition waivers. Students receive a bi-monthly paycheck that is directly deposited in their bank account rather than an amount applied to their tuition bill. Standard pay rate is $15.00 an hour, subject to applicable taxes.
      Fall and Spring Semesters
10-Hour Graduate Assistantship | 10 hrs/week=150 hrs/semester= $2250
20-Hour Graduate Assistantship | 20 hrs/week =300 hrs/semester=$4500
      Summer Sessions
10-Hour Graduate Assistantship | 10 hrs/week=50 hrs/session= $750
20-Hour Graduate Assistantship | 20 hrs/week=100 hrs/session=$1500
ECU pay periods run from the 1st – 15th and the 16th – last day of the month. Student employee paystubs will reflect time worked for the two weeks prior to when approved time is submitted. This means that as a student employee, you receive pay on the 15th and the last day of the month for work completed in the previous pay period. All work performed between the 1st and the 15th will be paid out via direct deposit on the last day of the month; and all work performed between the 16th and the last day of the month will be paid out on the 15th.
Holidays/Campus Closings
Student work schedules follow the holiday/closing schedule for the University. Student employees are not paid for University holidays or closings.
During adverse weather conditions, student employees are advised to contact their departmental supervisor to determine whether the University will be open or closed. If open, employees will need to discuss whether reporting to work is required and/or possible based on weather conditions. Student employees are not paid for hours not worked during periods of adverse weather.
Other Campus Employment Opportunities
There are three basic types of employment on campus:  Assistantships, Federal Work-Study, and Self-Help.  Graduate students are eligible for all three, although Federal Work-Study is the least common. To be eligible for funding, students should complete the FAFSA if you want the Federal Work-Study option. Assistantships and Self-Help jobs do not require a FAFSA on file.
Review the Graduate School's webpages on Campus Employment and Additional Funding Options for additional opportunities.