MSA Admission Requirements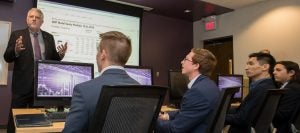 Application Components 
The MSA degree program is open to students with baccalaureate degrees in any discipline from institutions accredited by a CHEA-recognized institutional accrediting agency who present evidence of their ability to pursue graduate study. Previous work experience is not required.  The College of Business does not require letters of recommendation or a statement of purpose.
Application for Admission
Application fee of $75
Resume (note that work experience is NOT required)
Official Transcripts
GMAT/GRE scores or Entrance Exam Waiver**MSA applicants who have a 3.0 undergraduate GPA qualify for an entrance exam waiver to our MSA program.
The admission decision is based on a combination of factors, including, but not limited to, satisfying minimum GPA and entrance exam scores as noted below.
Admission Criteria
Applicants must meet the following criteria in order to be admitted to ECU's MSA program:
Acceptable entrance exam score (see Minimum Test Scores) OR approved entrance exam waiver AND
At least 950 points in this formula: (200 x GPA) + GMAT score AND
Accounting majors must have a 2.8 GPA or better in upper-level accounting courses.
Minimum Test Scores
The minimum GMAT score that will be considered is 450 for domestic students and 500 for international students.
You may submit a GRE score in-lieu of a GMAT score. GRE scores will be converted to GMAT scores using ETS's GRE Comparison Tool for Business Schools. This comparison tool provides a predicted GMAT total score. For a given GRE score, the predicted GMAT  total score will be used to determine a student's eligibility for admission. Usually a 149 on the verbal component and 149 on the analytical component converts to a 450 on the GMAT. Only GRE scores from the Revised GRE Exam (August 2011 or newer) will be accepted.
We do not prefer one test over the other; both the GMAT and GRE are considered equally for admissions decisions.
Applicants who score between a 400 and 440 on the GMAT (or converted GRE score) should speak with an advisor regarding possible admissions routes. Please click here to schedule an appointment.
International students must earn 1000 points in the admission formula with a minimum 500 on the GMAT. 
Minimum GPA for Accounting Majors 
Students who majored in accounting as undergraduates must have a 2.8 GPA or better in their upper-division accounting classes (generally Intermediate Accounting I and higher).
Special Provision for GPA 
East Carolina University makes available the provision that an MSA applicant can use the most recent upper-level 30 semester hours of undergraduate or graduate coursework in lieu of all undergraduate coursework when determining formula point totals.  This provision is subject to the approval of the Director of Graduate Programs, College of Business on a case-by-case basis.  In such a case, the minimum point total indicated above increases by 50 points.
Pre-requisite Coursework 
The following undergraduate courses must be completed prior to beginning MSA coursework. You can be admitted to the MSA if you are currently taking a pre-requisite course:
Financial Accounting
Managerial Accounting
Intermediate Accounting I
Intermediate Accounting II
Accounting Information Systems
We would be happy to determine your specific program course requirements prior to admission. Contact our office for more information. gradbus@ecu.edu or 252.328.6970.
Entrance Exam Testing
ECU College of Business has no plans to remove entrance exam score requirements for admission to our graduate degree programs. We continue to offer 7 opportunities to waive the entrance exam requirement.
You should have your official test scores sent directly to ECU's Graduate School from the testing portal. East Carolina University's codes: GMAT-MSA (HF3-LV-64),  GRE (5180)
NOTE: Applicants should NOT pay the application fee for their Graduate Admissions application until they receive their test scores and have confirmation from a COB advisor that the scores are acceptable, or their GMAT waiver application has been approved. The application fee is non-refundable and non-transferable.