MBA Program Structure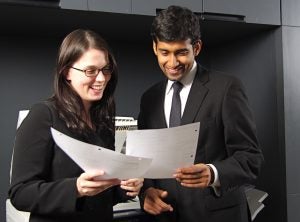 Unlike most MBA programs, there are no "hidden" pre-requisites to our MBA courses. The program is a maximum of 18 courses, or 54 semester hours, and provides an engaging and flexible education in the theory and practice of business management – exposing you to a range of subjects, including economics, marketing, accounting, finance, strategy, operations management, information systems, and supply chain management. These courses are divided into three categories: foundation, common body of knowledge and electives.
7 foundation courses
 Can be completed online only or can waive with undergraduate courses.
The foundation component quickly gives a non-business undergraduate student the same academic knowledge base as an undergraduate business or accounting student. You can be waived out of these on a course-by-course basis if you've completed similar undergraduate courses in the past. We do not offer course waivers for professional experience. We would be happy to review your past coursework to identify your course waivers. Contact our office for more information on course waivers. arthur@ecu.edu or 252.328.6970.
8 common body of knowledge (CBK) courses
Can be completed on-campus or online.
No matter what career path you choose, you will experience business scenarios and decision-making challenges. These required courses provide you with a portfolio of managerial tools and techniques as well as the "softer" skills needed to succeed as a manager.
3 electives/Graduate certificate 
Can be completed online.
Choose from over 30 different electives to tailor your MBA experience to your career goals, or opt for a graduate certificate to satisfy your elective requirement. Most certificates require four or five courses, effectively adding one or two additional courses to your program.  These 13 COB-affiliated certificates are designed to provide you with meaningful insight into the issues of a specific industry from colleges or departments both inside and outside the College of Business. Certificates are awarded from the respective colleges or departments in conjunction with your degree and successful completion of a certificate is reflected on your transcript.
Our planning sheet can provide a helpful visual of the program structure.